Bird Dogs Afield presents a complete program on all facets of pointing dog training, proper care of the bird dog and wild bird hunting. Host Paul Fuller is an avid pointing dog enthusiast and upland bird hunter. With his partner and companion, Dillon, a German shorthair, Paul demonstrates techniques and shares his knowledge of the sport. The Bird Dogs Afield website offers an extensive video library plus numerous articles Paul has written for his gun dog column. Simply click on Videos or Articles to enjoy bird dog "talk" right now. New episodes and articles are added frequently so check back often.
The Bird Dogs Afield Team
Paul Fuller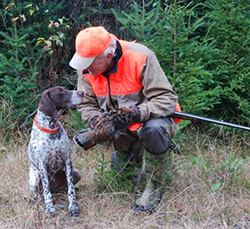 Paul Fuller, host and producer, is a life long sportsman and has a great passion for pointing dogs and upland bird hunting. Paul's hunting partners are Dillon, a German shorthaired pointer and his wife, Susan. The Bird DogsAfield team typically begin their hunting season in Canada or Montana in September and then work their way East to Maine and New Hampshire.
Paul's career in the outdoor industry spans 43 years. He's been the editor of a fishing/hunting publication; in the past 30 years he's produced over 150 sportsmen's shows in the Northeast that have served over 10,000 exhibiting companies and 3 million sportsmen. He is currently the gun dog columnist for Northwoods Sporting Journal and has been an active member of the New England Outdoor Writers Association since 1971. He's hunted and fished throughout North America, Central America and Iceland.